Combo Kit with 10 x Active Carbon Filters, 2x Extra Air Valves
Face Mask for Woodworking & more
Advanced Filtration Technology: Fightech Filters (6 included) are Tested at Nelson Laboratories, USA. Replaceable Activated Carbon Filters catch particulate down to .1 Micron. Average Filtration Efficiency: 99.941%. Each filter is individually packed and comes with an Anti-Fog Nose Bridge that redirects hot air out toward the sides of your mask, venting it safely away from your lenses.
INSTRUCTIONS
1. Hold the ear loop in each hand with the nose clip facing up. 2. Position the mask under the chin. 3. Pull each ear loop over the ear and adjust as needed. 4. Shape the nose clip to create a seal. the tighter the seal, the better the filters can trap incoming particles. For maximized performance, the mask must be sealed properly around the nose and mouth, so that all inhaled air can pass through the filter.
Share
View full details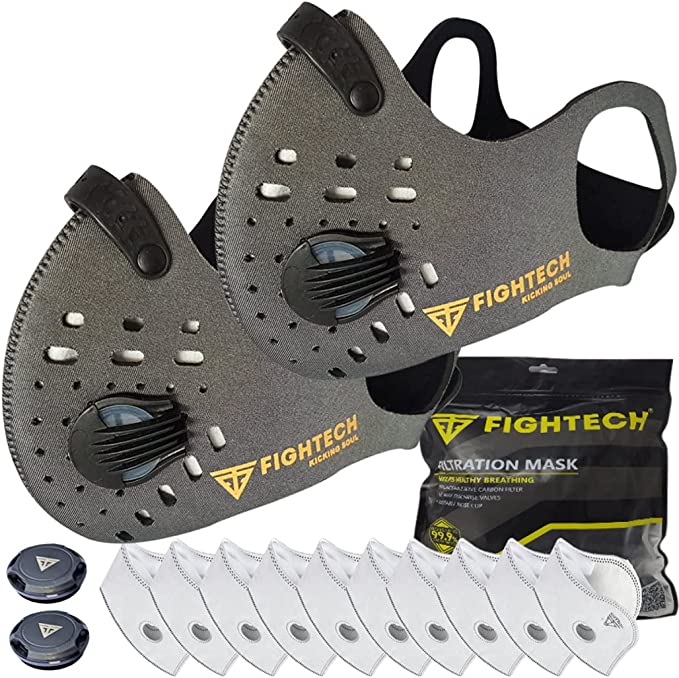 Collapsible content
HELPS HEALTHY BREATHING

This air filtration mask is designed for comfortable protection against non-toxic dust, pollen, fumes, common airborne irritants, and other non-oil-based particles. A great addition to your woodworking tools and equipment.

Our active carbon filters were tested at Nelson Laboratories, the USA to catch particulate down to .1 Micron. Average Filtration Efficiency: 99.941%. Please feel free to contact us for a copy of the certificates.
USAGE

Use this anti-pollution mask for home improvement projects: as a paint mask (non-oil based), woodworking mask for dust protection, mask for cleaning, smoke mask, sanding mask, face mask for construction workers, etc.

Also suitable for all kinds of outdoor activities where dust may be present. Such as Urban cycling, Mountain biking, Horseback riding, Skiing, Jogging, Climbing, Motorcycling, etc. Also applies to Exhaust, Industrial emissions, Dust, and Polen allergies.
IMPROVED DESIGN

Unlike previously designed filter masks, our new half mask implements the Earloop design preventing the pollution mask from slipping off, and equipped the face mask with a filter and two one-way discharge valves to reduce heat build-up inside the pollution mask.
GREAT FEATURES

The carbon filters and exhaust valves are fully interchangeable and reusable making them last significantly longer than your average dust masks, cloth face masks, or disposable masks.

Anti-fog upgrade - prevents sunglasses from fogging.
COMFORT

Made of elastic material, Fightech air pollution mask comes in 4 sizes and can be adjusted to meet most head types.
BUY WITH CONFIDENCE

If your Fightech air mask is poorly fitting, or you find anything missing or different than expected, PLEASE reach out to us! We will issue a full refund or replace the dust mask filter, the valves, or the dust mask itself.

Duration time for the filter depends on the user's breathing rate and pollution level. We recommend replacing the filter once weekly if the mask is used extensively. The valve should be replaced if damaged.